detail
By 3,5 Trillion Dollars Richer!
17.1.2017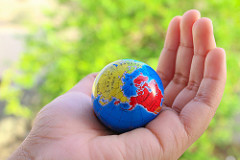 The Global Wealth Review 2016 confirms that the global wealth has risen by 3,5 trillion dollars during the last year, in other words by 1,4 % compared to the preceding year. Among the major economies the US and Japan have managed to generate substantial additional wealth. The wealth of individuals around the world still varies greatly. Based on the findings of the Research Institute Crédit Suisse the poor half of the world owns altogether less than 1 % of the global wealth, and the upper 10 % own the whole 89 % of global wealth, while the remaining 1 % equals the global assets.
The developing countries as usual report a high level of inequality of the wealth distribution. More than 40 % of adult Africans fall into the category of the poorest people. At the same time the wealth inequality in Africa is extremely high so that some individuals of African origin are amongst the richest individuals on this planet. It is seemingly paradoxical that North America and Europe also report a percentage of individuals that touch the poverty line – the reasons for this is the tendency of the young generation in developed economies to acquire debts.
What is the position of the developing world in regards to 2016? Read the review by the Crédit Suisse Research Institute here.