detail
Czech experts successfully completed a project aimed at improving the management of chemical substances in Georgia
6.12.2022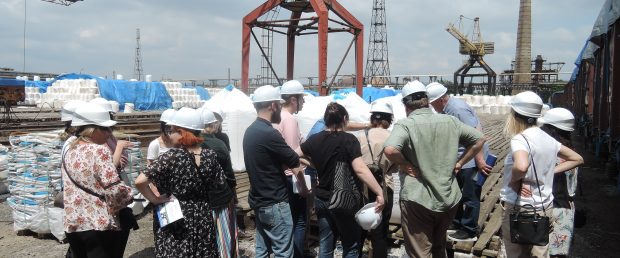 On November 22, 2022 in Tbilisi, there was a working presentation and discussion of the Georgian draft Code on chemical substances and mixtures, which was created as part of the development project "Capacity building for sound management of chemicals – Implementation of REACH and CLP regulations" funded by the Czech Development Agency (CzDA).
The workshop for representatives of the state administration, chemical industry and non-governmental organizations was prepared in cooperation with the Czech Embassy and the Georgian project partner – the Ministry of Environmental Protection and Agriculture.
The working meeting was opened by the Deputy Minister of Environmental Protection and Agriculture, Mr. Solomon Pavliashvili, who appreciated the cooperation with the Czech Republic in the implementation of environmental protection projects and the cooperation with the Czech team. The Czech ambassador to Georgia, Petr Mikyska, emphasized that the implementation of EU legislation is not only a formality, but a real benefit for the people of Georgia. He also valued the outputs of the project, which will support Georgian activities within the framework of the fulfilment of the obligations defined by the Association Agreement between Georgia and the European Union.
The Czech Republic, through its bilateral cooperation, supported the Georgian partner in transposition of EU requirements for management of chemical substances into national legislation. Namely the EU regulations CLP* and REACH*, which regulate the classification, labelling, packaging of chemical products and their placing on the market.
The project comprised mapping of the existing legislation and competences of individual authorities in management of chemical substances in Georgia, elaborating the concept for harmonizing existing legislation with the requirements of the European REACH and CLP regulations, drafting a new Code on chemical substances and mixtures incl. explanatory note, three implementing bylaws and methodology for ensuring effective control of obligations arising from the new chemical legislation.
Expert capacities of national institutions active in chemical management were strengthened through numerous trainings, workshops in Georgia and study tours to the Czech Republic.
The implementer of the project, Czech company DEKONTA, has extensive experience with environmental consultancy and development of international cooperation projects in Georgia and other countries of Eastern Europe and Asia. The Czech company Medistyl, which provides consultations in the legislation of chemical substances, also participates in the implementation of the project.
The project, which started in December 2017, was completed in November 2022 by handing over all outputs to the Georgian partner and to CzDA.