detail
Czech ODA projects are Appreciated by the Local People in Bosnia and Herzegovina
29.4.2016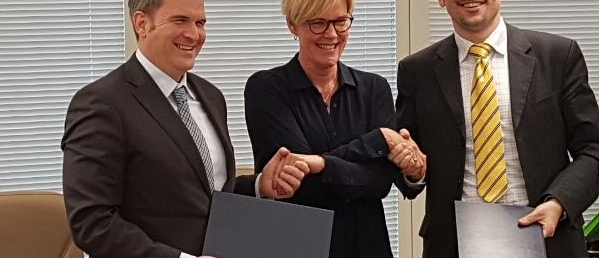 Director of the Czech Development Agency Michal Kaplan and expert Štěpán Šantrůček are visiting Bosnia and Herzegovina this week, one of the priority countries of the Czech ODA. An important moment of their visit was the signing of a Memorandum of Cooperation with Czech ODA's partners in Bosnia and Herzegovina – the American agency USAID and the Swedish agency SIDA. All three agencies have been working together since 2011 on a project called FARMA, which locals consider very beneficial. Therefore the cooperation will continue within the framework of a project FARMA 2. As part of the visit the CzDA representatives have been also monitoring the ongoing projects of the Czech ODA.
One of the monitored projects was "Support for capacity of the State Archive of Bosnia and Herzegovina". The project's goal is to restore the building of the State Archive after a devastating fire in 2014. In response to the disaster the Czech Republic quickly sent out experts to assist in damage assessment and is now assisting with the rescue of valuable written documents. In the next phase of the project the State Archive will receive a modern laboratory funded through the Czech ODA where the Archive's employees will be able to carry out restoration work.
Besides the monitoring, the CzDA representatives met with representatives of partner donor agencies USAID and SIDA. Together they signed a Memorandum of Cooperation. The Czech development involvement in the country is highly appreciated by the local people. An updated cooperation agreement will enable the project FARMA, one of the primary examples of the Czech involvement, to continue and build upon the previous successful cooperation.
Bosnia and Herzegovina belongs to the priority partner countries of the Czech ODA. Last year the projects coordinated by the CzDA in the country exceeded the amount of 70 mil. CZK. Bosnia and Herzegovina thus became one of three largest recipients of the bilateral development cooperation of the Czech Republic in 2015.
Photo: Embassy of the Czech Republic in Sarajevo, Embassy of Sweden in Sarajevo