detail
Czech Republic helps Moldova with the remediation of old environmental burdens
26.9.2012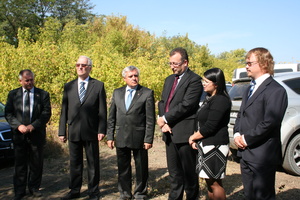 Moldovan Environment Minister Gheorghe Şalaru, Ambassador of the Czech Republic in Moldova Jaromír Kvapil, CzDA Director Michal Pastvinský and representatives of donors, Moldovan state, regional and local institutions, attended on 20 September an opening ceremony in the Moldovan town Grădiniţa on the occasion of a first transport of obsolete pesticides to Brunsbüttel in Germany, where they will be properly disposed of in a hazardous waste incinerator.
Pesticides were uncontrollably imported in abundance to Moldova during the USSR era. These pesticides were collected from former collective farms in the late 90s and deposited in district warehouses. Due to the lack of security, poor state of buildings´ construction and the occasional spontaneous combustion of stored toxic substances, there has been a continuous threat of leakage which might endanger the environment and health of local population.
Czech Republic has committed through the project "Remediation of Environmental Burdens Caused by Pesticides in Moldova" to remove 200 tons of pesticides and related contaminated waste from three district warehouses (Grădiniţa, Ciobalaccia, Clocuşna), which were selected on the basis of risk they pose to the environment.
Due to the gravity of the threat caused by pesticides, the Czech Development Agency has decided to build on the ongoing project and initiate its second phase, during which additional 250 tons of obsolete pesticides will be eliminated between the years 2013 – 2015. Minister of Environment of Moldova Gheorghe Şalaru and CzDA Director Michal Pastvinský signed in this regard on 19 September 2012 a Memorandum of Understanding on mutual cooperation in the implementation of the project.
The importance of the issue was underlined by an hour-long debate which was broadcasted live on the first Moldovan public television channel. Environment Minister Gheorghe Şalaru, Ambassador of the Czech Republic in Moldova Jaromír Kvapil and CzDA Director Michal Pastvinský took part in the debate. Numerous telephone inquiries during the show received from the viewers confirmed that there is a genuine public interest in the issue.
http://trm.md/ro/moldova-in-direct/moldova-in-direct-din-20-septembrie-2012/
http://trm.md/ro/social/200-tone-de-pesticide-vor-fi-nimicite-in-strainatate/
http://trm.md/ro/mesager/mesager-din-20-septembrie-2012/