detail aktuality
Opening of the new renovated water distribution system in Ethiopia
10.3.2016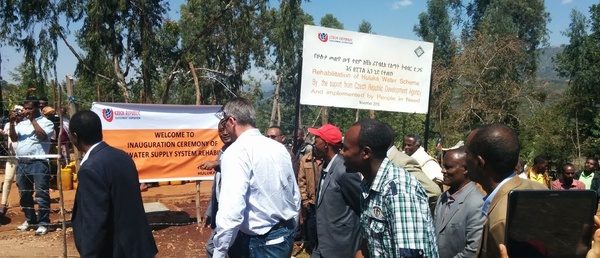 On February 23rd the ceremonial opening of the new renovated water distribution system was held in Huluka, Sidama in Ethiopia. The Czech ambassador in Ethiopia Karel Hejč was present, as well as Ato Aklilu Adelo, the chief of Sidama region, Ato Aberu Dekamu, director of the water distribution office, other representatives of Czech embassy, Czech Development Agency and the project partners – People In Need Foundation, Aquatest and Ircon companies. Many local authorities and hundreds of citizens from Huluka were also there to celebrate.
There are 6000  inhabitants in Huluka. In the past the water was distributed through a network with a few distribution spots, but the system stopped working after some time and the pipelines were broken or damaged. For the past few years the inhabitants thus had to rely on the water from the spring in the walley. Besides the need to carry water for long distances it also meant hours and hours of waiting for women, who are responsible for making sure that the family has enough water. The spring was – especially during the dry season – very weak.
Czech Development Agency decided to include the task of renewing water supply into its project "Establishment of sustainable potable water distribution system in the small cities of SIDAMA, SNNPR, Ethiopia, II" (2014-2017).  The renovation of the system that included general renovation of the generator, renovation and construction of new distribution places and funding of local water association – now responsible for the water supply in Huluca – was done by our partner, People In Need foundation in 2015.