detail
The European Union, in partnership with GIZ and CzDA, provided 2 pulmonary ventilators for a hospital in the Transnistrian region, in the context of support to the Republic of Moldova for COVID-19 response
6.10.2020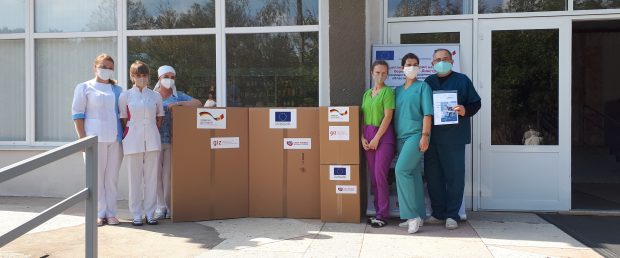 In the context of the COVID-19 pandemic, in March 2020, the European Union Delegation to the Republic of Moldova and the World Health Organization launched an extensive awareness-raising campaign aimed at consolidating the actions of development partners to support the health sector in its efforts to diminish the spread of new coronavirus in the Republic of Moldova.
In response to this call, on behalf and with the financial support of the European Union and Government of Germany, the German Agency for International Cooperation (GIZ) in cooperation with the Czech Development Agency (CzDA) have organised the procurement of 2 pulmonary ventilation devices (PV) HAMILTON C1, manufactured by Hamilton Medical in Switzerland and valued at approx. 30 thousand Euros (600 000 lei).
The devices are of the latest generation with proven efficiency in COVID-19 therapy, intended as a treatment for adults and children, due to the non-invasive and humidified lung ventilation regimes. The compact design assures maximum flexibility in various situations of use, whether long-term care, intensive care, emergency, or mobile respiratory care providing a simultaneous service capacity for two patients.
On September 23, at the GIZ office in Chisinau, the equipment was handed over to the NGO "Association for Health and Sports", the representative of the "Health Platform" under the General EU Confidence Building Measures Programme, which has randomly applied to various development partners in the Republic of Moldova for possible aid in combating the pandemic in the Transnistrian region.
On September 25, the event of donation and installation took place in the intensive care unit of Slobozia hospital where 236 patients with COVID-19 are currently hospitalized. The installation will be carried out by the representative of Global Biomarketing Group – the representative provider in Moldova of the Swiss manufacturer. In the coming days, two training sessions for device operators are planned, so that the devices are integrated into the treatment process as soon as possible.
Disclaimer:
The content of this text is the sole responsibility of the Czech Development Agency and does not necessarily reflect the views of the European Union.