detail aktuality
Czech Development Cooperation Project to Support Georgia in enhancing its Preparedness Against Extreme Weather Events
9.10.2012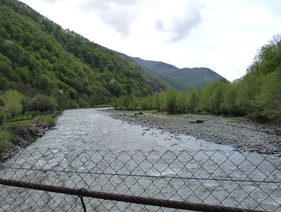 Czech Development Cooperation is supporting Georgia in its efforts to strengthen its capacity to reduce and/or mitigate the possible negative results from meteorological and hydrological disasters. In the framework of the hydrological part of the project, the supply, procurement and installation of seven automatic hydrological stations and a portable device, which works on the principle of the Doppler effect, for the measuring of river discharge during the fieldworks, the software necessary for their operation as well as necessary training in the use and maintenance of the above listed components are expected.
This project is being implemented within the framework of the Czech Republic funded Development Cooperation programme which is to be implemented in Georgia for the period 2011-2013, and is part of a larger Czech Development Cooperation programme. The Czech Republic has a long history of involvement in Georgia, financially supporting other development projects in this country.
The hydrological stations, which will be installed by the end of November, 2012, will be used to monitor the water level, volume of water, and speed of the current at different depths (to enable the making of more accurate hydrological forecasts) on the Mtkvari, Tetri Aragvi, Pshavis Aragvi, Liakhvi, Potshkovi, Qtsia and Enguri rivers. The stations will automatically transmit collected data, via e-mail and sms, allowing authorities to issue timely early warnings of deteriorating hydrological conditions to the affected sections of the population, as well as to the rescue services, enabling them to take all necessary steps to limit material losses and avoid human casualties.
Completion of this project would not be possible without the invaluable assistance, and co-financing of the project activities by the National Environmental Agency (NEA) of Georgia. This agency is entrusted with the discharge of Georgia's international obligations in the areas of monitoring and dissemination of information related to environmental phenomena (weather, climate, hydrology, pollution), as well as dealing with the natural disasters connected with weather and water. The NEA is the Georgian institutional partner of the Czech Development Cooperation, and it will prepare all necessary infrastructure for installing the automatic hydrological gauges as well as take delivery of the automatic hydrological stations, and will operate them upon completion of the project. NEA personnel will receive training in the use and maintenance of the stations.
In addition to the Czech Republic's funding of the present project, the following three organisations are also participating in its realisation: The Czech Hydrometeorological Institute (CHMI), which is providing expert support and training; the firm Aquatest a.s., is providing the necessary software and database, and; Glomex, MS, s.r.o., will coordinate the delivery of the meteorological and hydrological stations to Georgia.