detail aktuality
Regional Development Agency South staff benefit from know-how and skill transfer from Czech experts
4.10.2012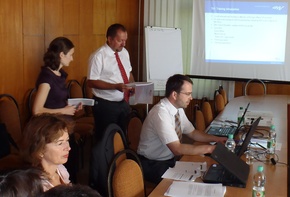 Prague/Chisinau – Another substantial step was made towards successful completion of updated Regional Development Strategy for the region South, which is being created by the staff of Regional Development Agency South (RDA) for the years 2013 – 2020. This project has been running since March, 2012 hand in hand with the EU-12 Joint programming, involving Czech Development Agency and its counterparts from Poland and Latvia, cooperating with the Ministry of Regional Development and Construction.
In the course the long-term cooperation of RDA with Czech experts from DHV CR Ltd., apart from providing remote consultancy via phone or email communication, there have been a few in-situ meetings and workshops to enhance the effect of this cooperation. One of these took place in Cimişlia by the end of June (27-28 June, 2012). The aim of this particular training was to share and transfer know-how concerning the process of strategic planning. During the two-day training, a three-member team of the Czech experts, lead by the director of DHV CR, Mr. Radim Gill and consisting of two more experts on the topic of strategic planning Lukas Malac and Martin Dohnal, provided the RDA staff with series of lectures, accompanied by subsequent workshops. These workshops enabled the RDA staff to transfer the theoretical knowledge received during the lectures into practice. Fulfilling practical tasks, the RDA staff could see and experience the real-life application of the tools, realize its positives as well as its weak points and consult the immediate questions and issues with the experts.
The overall effect of this training was the rising awareness of RDA staff, altogether 15 employees of the agency, about the concept of strategic planning, the associated processes and application of various analytical tools. Except for tutoring, the Czech team also provided its services and supervised the actual Development Strategy and suggested some changes and improvements.
One of the sections was also devoted to the training of Regional Development Council members. The purpose of this training was to clarify and deepen the knowledge of the 25 participants about their tasks and role in the process of strategic planning. Thanks to this cooperation, which is being enabled within the framework of Czech Development Assistance to Moldova under the co-ordination of Czech Development Agency, the qualification of the RDA staff has been gradually enhancing towards self-sufficiency and further cooperation should contribute even more to this process.