detail
The Czech Development Agency funded projects in health and social sectors in Georgia
23.7.2020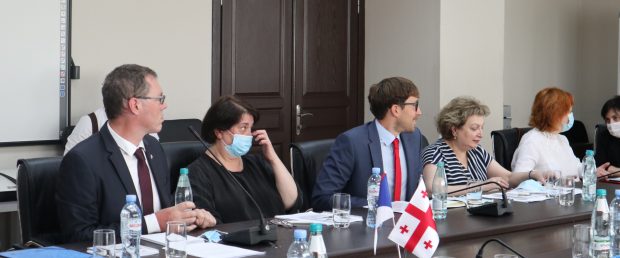 In the first week of July, two new development projects have started in Georgia thanks to the support from the Czech Development Agency. Two projects, which were officially introduced on July 10th by Czech Caritas team to the main partners and representatives of the donor during the meeting attended by Minister of IDPs, Labour, Health and Social Affairs Mrs. Ekaterine Tikaradze and H.E. Petr Mikyska, the Ambassador of the Czech Republic in Georgia, aim at inclusive social development through the improvement of health and social sectors in Georgia.
The first project called "Support to Primary Health Care strengthening" is a continuation and scale-up of the project implemented during 2017-2019. Caritas Czech Republic assisted the Ministry in assessing and improving the quality of primary health care services. To this end, the quality measurement electronic tools were developed and introduced at five pilot PHC facilities in Tbilisi.
From 2020, the Czech Republic's Caritas will launch the second phase of support for primary health care reform, which will lead to even larger-scale changes in the primary health care sector. In particular, quality management tools will be introduced for primary healthcare and a unified, comprehensive standardized electronic information system will be created to help professionals working in the field of primary health care to work with uniform high-quality standards. The project will upgrade the qualification standards and requirements for primary care staff and will establish a system of continuing medical education. The project will be implemented in three years.
"Now we are entering a new phase of strengthening the primary health care sector, which has very long- term goals and envisages the introduction of electronic information technologies in primary health care, as well as strengthening the skills of primary health care providers. Caritas Czech Republic supports the Ministry in the implementation of these goals," mentioned first deputy minister Tamar Gabunia.
The second new project "Way to Home Development of Adult Alternative Social Services in Georgia" aims at the creation of a national system of adult alternative care based on the individual needs of beneficiaries. Particularly, it concerns the deinstitutionalization of two large boarding homes for persons with disabilities (PWD) in Martkofi and Dusheti and the development of relevant family-style services for the beneficiaries of these services. The project is initiated by LEPL Agency for State Care and Assistance for the Victims of Human Trafficking and is in line with the state policy in the field of disability and human rights proceeding from the UN Convention on the Rights of Persons with Disabilities, which has been signed and ratified by the Government of Georgia.
"I am really excited about the fact that we are starting those two new CzechAid-funded projects, it indicates that donors and partners acknowledge our professionalism, and ability to deliver high-quality results. Even though both projects are challenging, I am sure that we accomplish them without problems," said Jan Blinka, Head of Mission CCR in Georgia.