detail aktuality
Czech Republic delivers professional gynaecologic support to women in Caucasus
22.11.2010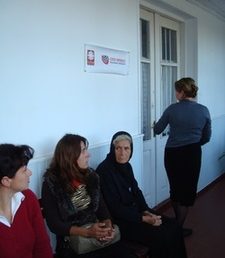 Being something between thirty and forty years old, Mariam works as a primary school teacher in a village in western Georgia, near the border with Abkhazia. She definitely cannot agree with the saying "the true life starts after being thirty". A gynaecological check-up resulted in the diagnosis: cervical cancer at the end of its third stage. "I cannot say the exact diagnosis before the test results, but it doesn't look good, I can tell," said a gynaecologist who checks-up each month nearly two hundred and fifty village women. Many of them have not been checked-up by a professional gynaecologist for decades.
Both cervical cancer or breast cancer, which are approximately equally frequent, do not have to hurt and that is part of the problem. Genital cancer is relatively well treatable providing it is revealed in time. But since the early stages of the disease is pain free women do not feel the urge to undertake a routine check-up, especially since those are nor free nor cheap in Georgia. A check-up with a specialist, either a gynaecologist or a mamologist, including a pre-screening test for detecting pre-cancer symptoms can cost €7 – €22. In addition, regional hospitals are not properly equipped, so the patient must travel to the capital, which means additional costs. To have a professional medical check-up is much above the local standard of living and cannot be afforded by anyone. The situation is not addressed by the health insurance either.
It is three months now that the pilot project in the regions of Samegrelo and Shida Kartli in Georgia is promoting the prevention and early diagnosis of breast and cervical cancer. Since June, on a monthly basis, a team of oncology specialists visits the villages in the regions to offer free gynaecological and mamologic check-ups. If a patient needs a deeper examination, it is referred to a city clinic. Only in the first month, sixteen serious cases requiring immediate treatment were identified.
There are sessions called "outdoors" where women are informed about the need for a regular gynecological check-up, the symptoms of illness that should raise suspicion and should lead to seeing a doctor, as well as breast self-examination techniques. For an hour and a half, the issues that were still taboos in the late twentieth-century are discussed in an informal and interactive way. "Sex before marriage? Safe sex? Sex life? Nothing like that could be found in the Soviet vocabulary", smiles ironically Goča, a doctor working for the NGOs dealing with reproductive health issues. The situation is slowly changing, however. Yet, it is hard to tell how many more lives it will cost.
Local doctors also require more training. The project provides them the necessary education to learn how to talk about these matters with their patient and how to appropriately communicate a severe diagnosis to a patient. The village's clinic staff is also trained in trying to uncover the reasons why patients do not go to see a doctor at all. Money seems not to be the only issue. Apparently, there is also a fear of what they could find out from the doctor. "Ignorance is more acceptable to them than the possibility of being sick," explains Inga Sharikadze, a project team doctor. Cancer is also shrouded by lots of prejudice caused by the lack of correct information. "Cancer is perceived as terminal, full stop, and this view is incredibly difficult to change," says Inga.
According to Nana, one of the general practitioners involved in the project, women particularly lack of psychological help: "I knew a patient who was aware of her illness, but she never had enough confidence to go for treatment. The notion that she would lose a part of her intimate organs cost her life. There was no one who could explain her that being a woman is not only dependent on physiology. "
A program supporting prevention and early detection of breast and cervical cancer is unique in the country. The importance of the project for the Georgian side can be seen by the Honour for contribution to the development of oncology recently received by the Ambassador of the Czech Republic in Georgia, the Czech Development Agency and the main project team comprising staff of Caritas Czech Republic.
Text provided by Kateřina Zezulková, Project manager Humanitarian and Development Aid Department at Caritas Czech Republic