detail aktuality
Development Cooperation with the USA and Sweden in Bosnia and Herzegovina
15.7.2011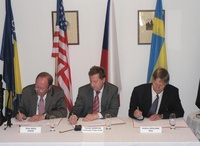 On July 14, 2011 the Memorandum of Understanding among the US Agency for International Development (USAID), the Swedish International Development Cooperation Agency (Sida) and the Czech Development Agency (CzDA) was ceremonially signed in the Czech ambassador's residence in Sarajevo. The Ambassador of the Czech Republic in Sarajevo Tomáš Szunyog signed the Memorandum on behalf of the CzDA director Michal Pastvinský as a representative of the Czech government. Mr. Allan Reed, as the USAID BH Mission Director, signed it on behalf of the US government and Mr. Anders Hedlund, chargé d´affaires and Sida BH Mission Director on behalf of Sweden.
The signing of the Memorandum with these two agencies is playing an important role in development cooperation in Bosnia and Herzegovina and will, among others, contribute to greater harmonisation of donors' common activities aiming at reaching better efficiency and acceleration of economic and social development of the country.
Common activities will be running in the sector of agriculture. As a follow-up of the Memorandum signature, other technical meetings of the CzDA will follow with American and Swedish experts in order to specify the exact forms of cooperation. Thanks to the newly established cooperation, the Czech Republic will be able to participate distinctly in activities of the international community in Bosnia and Herzegovina and at the same time Czech experts, companies and NGOs will have the possibility to apply their experience in improving the quality and efficiency of the local agricultural sector. The American and Swedish interest to cooperate with the Czech Republic in this sector in Bosnia and Herzegovina is an acknowledgement of a successful development of the system of the Czech official development assistance.
Based on the decision of the Government of the Czech Republic and in accordance with the Cooperation Programme between the Czech Republic and Bosnia and Herzegovina, agriculture belongs to the priority sectors of the Czech ODA in Bosnia and Herzegovina. A long-term project focused on an increase of milk production in North-East Bosnia was already initiated in 2010.