detail
Minister of Agriculture Jurečka visited Zambia, a partner country of the Czech Republic's ODA
22.4.2016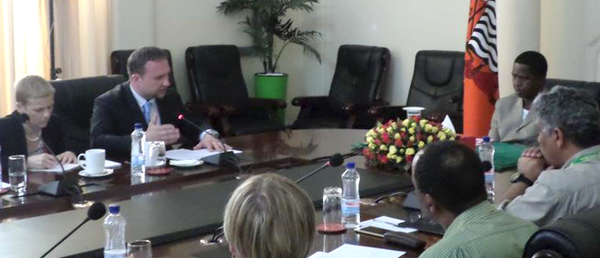 Minister of Agriculture of the Czech Republic Mr. Marian Jurečka led a ministerial and business delegation from April 13-15, 2016 in Zambia. During his visit he adressed topics related to the agenda of the Official Development Assistance of the Czech Republic. In this context, Mr. Marian Jurečka informed the Zambian representatives about the decision of the Czech government to increase resources allocated for the ODA in Zambia.
Zambia belongs to the long-term partner countries of the Czech Republic's development cooperation. Czech projects in the country focus on the areas of agriculture, health and education. The announcement of the increase of the Czech-Zambian cooperation was appreciated by Zambian president Edgar Lungu during a meeting with Minister Jurečka. The representatives of Zambia expressed their interest in continuing the process of passing on Czech experience and technology.
As part of the visit a Memorandum of Cooperation between the Ministry of Agriculture of the Republic of Zambia and the Czech Republic was signed. Mr Jurečka also met with his Zambian counterparts Mr Given Lubinda, Minister of Agriculture of Zambia, and Mr Greyford Monde, Minister of Fisheries and Livestock of Zambia. In addition he visited the exhibition Agritech. The visit included a series of meetings with representatives of the Ministry of Agriculture, Ministry of Industry and Trade and the Ministry of Foreign Affairs and with the Permanent Secretaries of the Zambian Ministry of Trade and Industry, Ministry of Energy and representatives of Zambia Development Agency.