detail
Thanks to the Czech support Moldovan farmers are better able to compete on the EU market
5.2.2016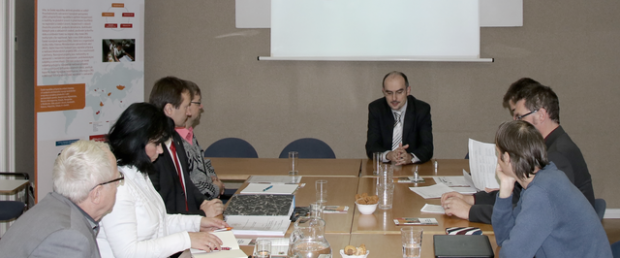 Czech development projects help Moldovan farmers to compete on the European markets. Although it may seem that organic agriculture and wine education projects have a different focus, their common aim – strengthening the competitiveness of the Moldovan agriculture – connects them together. Czech development activities thus accompany farmers in school, on the field, when dealing with state authorities as well as on the market. This trend of adopting a complex approach towards development activities is expected to continue in the year 2016 as confirmed by the implementers of the Official Development Assistance (ODA) projects of the Czech Republic at a coordination meeting with the CzDA experts.
"In order to achieve truly positive changes, we strive to approach development projects in Moldova in a comprehensive manner. We are focusing on quality education of future farmers and winegrowers. We are improving production with local farmers so there is an adequate labor market for the new talents. We are also co-operating at the level of ministries as well as of local authorities to support a functional cooperation between farmers and Moldovan authorities," said Jan Černík, CzDA expert. "Moreover, due to their common goal, those activities interlink the Czech ODA implementers from the state, non-profit and private sectors who now collaborate together," Černík added.
The ODA projects of the Czech Republic related to organic agriculture and winemaking have been successfully implemented since 2011. Throughout the years, the range and number of such projects have increased. In addition to the official Moldovan wine register, currently in the making, Czech development activities in 2016 will also focus on improving viticulture and oenology programmes and the application of organic farming products originating from Moldova. The cooperation between the Czech private sector and local farmers will continue as well. A pilot organic farm in Moldova and practical internships for Moldovan teachers and students at the Valtice Wine High School and at a branch of the Central Institute for Supervising and Testing in Agriculture Znojmo are being considered as another possible activities for the upcoming period.
The above mentioned projects make full use of the extensive experience of Czech implementers and a genuine interest on the part of Moldovan partners. 5 Czech implementers are currently involved in the projects. Therefore, the CZDA as a modern donor organizes regular meetings of the implementers within the framework of the so called control days. During the meetings the implementers exchange practical insights and jointly plan their activities to reinforce their complementarity. The January meeting was attended by representatives of the Central Institute for Supervising and Testing in Agriculture, Valtice Wine High School, NGO People in Need and PRO-BIO, s.r.o. According to the implementers' plans, 2016 should confirm the growing importance of organic farming and wine education within the Czech ODA in Moldova. In the upcoming period the CzDA is going to further continue with the application a comprehensive approach to its development activities.