detail
Vine and Wine Register of Moldova financed by the Czech republic has been officially launched
27.4.2017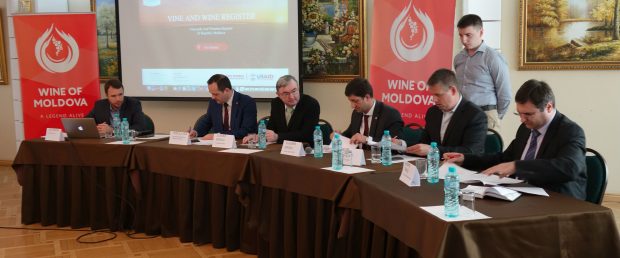 The Automated Information System Vine and Wine Register (VWR) has been officially launched and started the registration of the vine and wine units from Moldova. The act on the putting into operation of the register was signed at news conference by the sides involved in the carrying out of the concerned project: Ministry of Agriculture and Food Industry, National Office for Vine and Wine (NOVW), Agricultural Information Centre and the Central Institute for Supervising and Testing in Agriculture from the Czech Republic. The software programme for VWR was worked out by a company from the Czech Republic and financed by the Czech Development Agency, being made up according to the scheme of work of the Vine and Wine Register from the Czech Republic, launched more than ten years ago. The new register is a part of bigger project – Elaboration and implementation of the Vine and Wine Register in the Republic of Moldova, which is co-financed by USAID.
Deputy Agriculture and Food Industry Minister Vasile Luca stressed the importance of implementing this project. He noted that, while so far, information on the vine and wine sector had been collected on paper, at present, vine growers and wine makers had possibility to submit applications on registration and declarations online to www.rvv.gov.md or may appeal to the NOVW's headquarters to be included into the register.
According to the deputy director of the National Office for Vine and Wine, Vladimir Grosu, the Vine and Wine Register is a coherent traceability system, which will ensure the transparency of the entire technological process, beginning with saleable grapes and ending with the distribution of the finished product, thus enhancing the competitiveness of the Moldovan wines and helping local producers extend both on the domestic and the external markets.
The Vine and Wine Register will contain detailed information about all producers of grapes and wine processors, making possible the identification of products based on must and wine, especially of those with protected geographical indication and protected origin name, in all the chain of the production-trade process: vine grower, wine producer, distributor, seller, exporter, Vladimir Grosu said.
Attending the event was also Czech Ambassador to Moldova Zdenek Krejci. The official said that, to implement this project, initiated in 2013, his country had earmarked 400,000 euros. "Moldova is a priority country for the Czech Republic.  Each year, we invest about three million euros in development and structural programmes in Moldova," the diplomat said.
The Vine and Wine Register is meant for all vine growers and wine makers owning vineyards of commercial output larger than 0.15 hectares, with varieties of table and wine grapes. So far, over 20,000 vine growers have been recorded in this register.